Hello,world! :)

About this blog:
I post pictures of my nail designs and pictures of things that inspire me.
I hope that you can identify yourselves with what I write and post.
About me: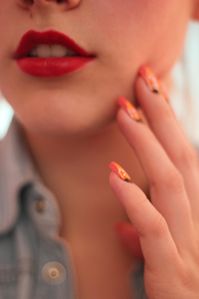 I am an 18-year-old student living in Germany.
I find great pleasure in art, aesthetic beauty and just anything that looks cute and beautiful.
I believe those little things, such as pretty nails and a pretty room,which refelct you and your own unique style, those things have a great impact on your presonal outlook on life.
Colours make me so happy.
Patterns and matching designs embellishes my life with swirls and spirals.
The smallest detail can mean so much to me.
For me the highest goal I could achieve is to have an inspirational influence on other people's lives.
When I paint, I experience depth and meaning in my own life.
I wish to pass on what I have learned. C:
Dance is another passion of mine.

If your life seems ugly and monotone,then get your polish and paint your life in the colours you like!
Enjoy the Beauty of Life!
- TR.
Ps: Oh,and if you were wondering, my pinkies are crooked by birth. My siblings have it too. No idea why..^^
but it makes us unique ;)
myfb:
http://www.facebook.com/NailDesignsByTR
tumblr:
http://littletinyshinytiara.tumblr.com/