July 21 2011
5
21
/

07
/

July
/

2011
15:03
These are neon colors that glow under black light.
They are perfect for a Party with black light. Your nails will shine all the time.
It looks so awesome and freaky.
The first time a friend of mine discovered it at a Party. She pointed out my nails and said: Omg! Your nails are glowing!
It's pretty cool..^^
colors:
- color club- screaming fuchsia (the base)
- color club- electro candy (not AS glowing, the dot on the ring-finger)
- color club- pure energy ( blues don't glow as well, middle finger: dots)
- art deco- hot pink (middle finger: dots)
- art deco- mint green (ring-finger + index finger)
- art deco- bright green (index finger)
without black light: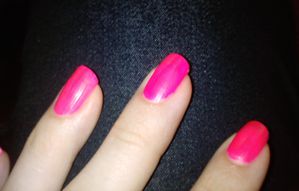 black light: